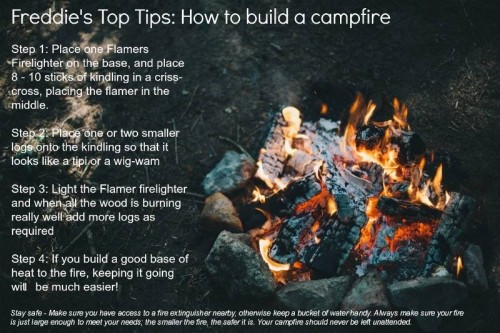 Freddie's Top Tips: How to build a campfire
Whether it's for cooking, or cosying up on a chilly night watching the stars campfires an essential part of a camping trip! Take a look at our top tips for lighting a campfire this Summer.
Stay safe, make sure you have access to a fire extinguisher nearby or have a bucket of water handy. Always make sure your fire is just large enough to meet your needs; the smaller the fire the safer it is. Most importantly your fire should never be left unattended.
Step 1: Place 8-10 sticks of kindling in a criss-cross, placing the Flamer in the middle, to form the base of your fire.
Step 2: Place one or two smaller logs onto the kindling so that it looks like a tipi or wig-wam.
Step 3: Light the Flamer and when all the wood is burning well, add 2 – 3 logs.
Step 4: Once all the wood is burning well, add more logs as and when required.
If you build a good base of heat to the fire, keeping it going will be much easier.